¿WHAT KIND OF CAR WAS THE GREENWOOD CORVETTE? To express it in a simple manner, a C3 Corvette transformed by a privateer team into a mean winning machine. Chevrolet had initially no plans to develop a competition oriented C3 Corvette, so this became the dream opportunity for the Greenwood brothers, John & Burt. Sons of an ex-GM executive, they achieved already some success in local competitions with a big block l968 Corvette, tuned by themselves. Being already seasoned in the art of tuning a muscle car such as the Corvette, the C3 Corvette became in their hands, after a lot of hard work and effort, in one of the most menacing race cars in the 70's IMSA y SCCA categories. 
This racecar was capable of racing head to head against the most prominent opposition back in the day, and inspiring other brands' engineers for body widening solutions. If you look closely at the Porsche Moby Dick and BMW CSL Batmobile, you'll find some resemblance between them. It was the '70s! 
SIGNIFICANT SPORTING SUCCESS? 
No doubt about it.
Winner of GT class at Sebring and Daytona in 1971. 
Winner at the Daytona 24 hours, and IMSA champion in 1974.
Trans AM title winner in 1975 and 1978, top speed record in Daytona (236 mph = 380 km/h). I couldn't believe this last stat, and regoogled it several times to make sure. This is simply awesome.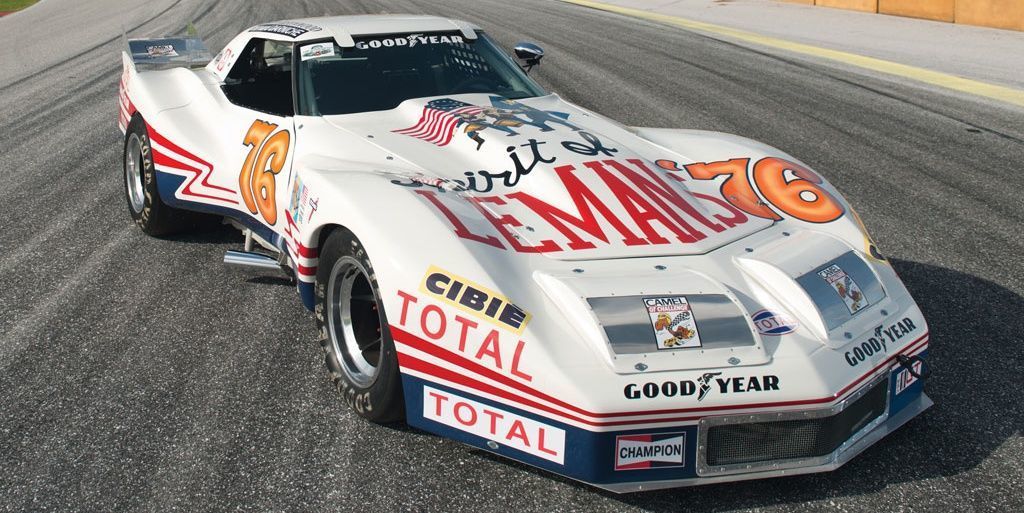 WHAT SLOT VERSIONS CAN WE FIND?
In my case, I was lucky enough to find a Riverside 75 Greenwood Corvette, by Revell, in pristine condition considering it was a second hand item. Also surprised by the fact that it only took me a couple google searchings to come across it. At first, I was convinced it would be impossible to find this american icon in Spain. I would have prefered the Le Mans 76 version, but the Riverside 75 is also a remarkable one, which you can see in the picture in the page header, and the following ones below.   
To find out about more references in the slot world for this beast, after very little searching, I also found quite easily this page http://www.greenwoodcorvettes.com/ToysSlotcars2.html#, which I find useful for the Corvette slot car enthusiasts community.   
On 1:32 scale, in the bottom part of the page you'll find the manufacturer references for the Revell-Monogram,  Scalextric, TopSlots, Patto's '76 Super Corvette Batmobile, and  Parma. In that website, if you're curious to find out about other scale versions, there are also links to references to 1:64(HO) and 1:24 scales. 
Now, back to this 1:32 version. It catches your eye in static form, helped by its muscular looks. But if you want it to perform in a slot car track in the same way its 1:1 version does, you'll need to make major mechanical changes. For the moment, I'm keeping it as is, but I'm not discarding yet its transformation. It deserves pedigree performance, in the same way its big brother did back in its day.  If I finally embark on this mission, I promise I'll keep you updated. 
Its standard mechanical layout includes the motor placed in front, and a cardan shaft to propel the rear wheels, very reminiscent of many Flyslot cars.
It required some minimal changes to make it drivable in my slot track. Lower profile front tyres and check the braids' rigidity and length. After these basic changes, now the car could address each curve in a natural manner, and drive across the finish line one lap after another. 
WEB RESOURCES
For the C3 Generation Corvette lovers, I truly recommend these resources:
Bonhams, in case you consider buying the 1:1 real deal: https://www.bonhams.com/auctions/13184/lot/1056/
Enjoy this video showing the engine startup at Le Mans classic back in 2012: Apart from the spectacular idle sound, once the mechanic stabilizes the ignition timing, notice the car sitting next to its left hand side: the spectacular red & white 3M Ferrari BB 512. Quite a contrast between those two cars. Italian finesse next to American power. There's nothing subtle in the Corvette.  
Jordan Taylor driving a Greenwood Corvette in its natural habitat: a racetrack. No traction control, no semiautomatic gear change, no electronic aids. At the start, you can see the driver misses a downshift, but afterwards, rejoins the track, and tames the beast, driving it very professionally, with a great dose of care and respect. 
Daytona 1977, Corvette Greenwood located mins 18:50 to 19:15
If you own a 1:32 Corvette, you'll look at it in a different way, for sure.
I sincerely hope you enjoyed reading this. If so, please press the like button 🙂