In this new blog entry on mythical liveries and decorations, this time we'll check a sponsor that is among the undisputed favorites of the slot world. A slot car that shows off its image makes it more than easily locatable on the track, due to its bright orange color.
Nothing better than a video to set us up with first-rate automotive heritage.
The Jägermeister website already makes the spirit of the brand clear with this introductory text:
«In 1972, Jägermeister began its journey as a motorsports sponsor. Since then, more than 150 of the world's best drivers have driven for the Jägermeister racing team. The name Jägermeister runs like a bright orange thread through the annals of motorsports both in Germany and internationally. From Formula 1 to the German Touring Car Championship, our orange drivers have led the way time and time again. «
We are going to do a brief review of its history, and its impact on the world that interests us, which is slot cars (1/32 scale), highlighting some of the most representative examples that we could have access to either in the new or second-hand market.
To whom do we owe the Jägermeister livery?
To the Mast-Jägermeister SE company, located in Wolfenbüttel. Like other worldwide known spirits, such as Martini, Jägermeister chose the media impact of motorsports as a way to promote its product in the early 1970s.
When did Jägermeister start to be seen on the racetrack?
Contrary to what we might think, Jägermeister's debut in competition took place in a rally, and not on the track, which is the environment with which we normally tend to associate these colors. Of course, we are talking about the Monte Carlo Rally, an unbeatable setting for a premiere. The car was a Porsche 914/6, driven by the German private team consisting of Schimpf and Zauner. This issue would be a perfect start to a «Jagers» collection if we were considering such task.
Later in 1973, a young but promising talent, Niki Lauda, won the 24 hours of the Nürburgring behind the wheel of an Alpina BMW Coupé, teaming up with Hans Peter Joisten. This would be a resounding impact for the beginning of the association of the Jaegermeister colors and sporting success on the track.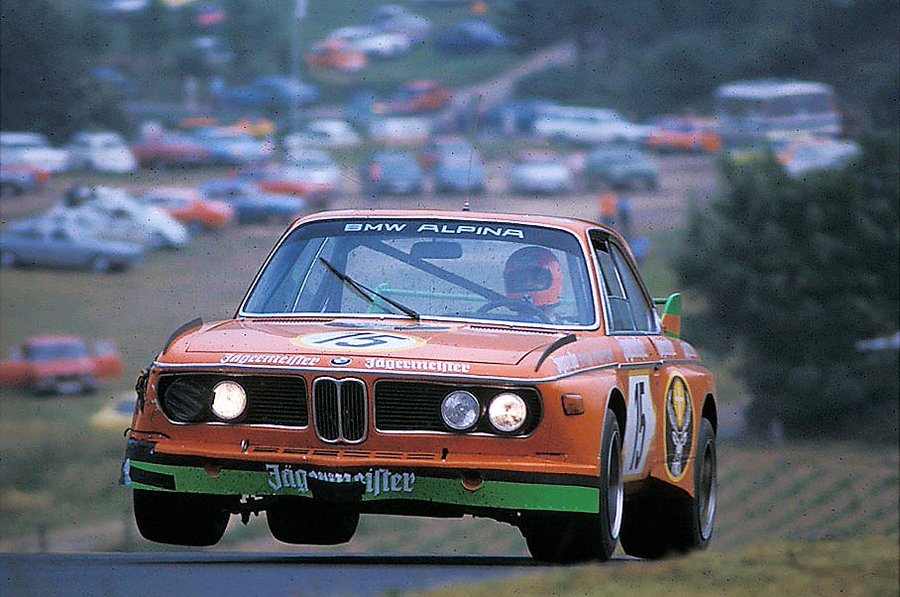 This would have been one of the featured slot cars offered by the failed Vulcan Slot, which intended to include that precious Alpina in its initial offer.
The release news at the time is still available at the link https://www.slotcar-today.com/es/notices/2015/04/vulcan-slot-en-linea-de-salida-bmw-3.0-csl-y-escort-mki-a-punto-4186.php
In any case, if we want to get a 1/32 slot BMW 3.0 CSL with the Jägermeister livery, we would have to go to the second-hand market to find a pack that Fly made in its day, commemorating that livery. As an example we include this photo taken from the todocoleccion.net site.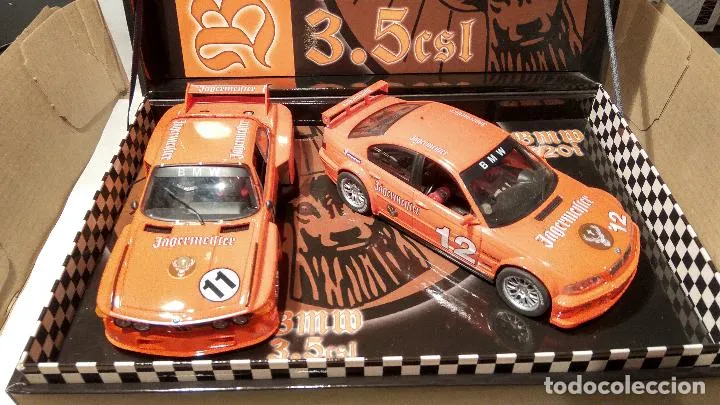 Porsche is a firm that we immediately associate with the visual stamp of Jägermeister. Proof of this is this 935/76.
https://www.slotcar-today.com/es/notices/2017/04/porsche-935-76-jagermeister-slotwings-6320.php
To speak of Jägermeister is also to speak of group 5. Here is a dose thanks to Sideways and the stamp of his BMW 320.
In an article I published on this blog about this same car, I shared a video that fits perfectly again here. Let a Jagermeister car make our serotonine levels experience a spike.
Another example of this glorious era of motorsport is this thoroughbred that the Jaegermeister website calls «Super Capri». It is none other than the Capri developed by Zakspeed, and that so many successes treasured in the German DRM. It was also the subject of an article on this blog,
Not everything is Super Capris, there are also more accessible Capris. Who could resist a Capri RS 2600 from SRC?
This Capri RS 2600 by SRC was launched in 2017. With the car, a set of decals came for us to place them to our liking. News of its launch available at this link, https://www.slotcar-today.com/es/notices/2017/09/ford-capri-rs-jagermeister-slot-racing-company-6756.php
More modern and recent, the spectacular Alfa Romeo 155 V6 Ti from the 1993 DTM.
At this point in the article you miss the Bavarian power courtesy of BMW, right? Relax, the dose is assured.
And of course, the M3 GTR is no stranger to this livery. Once more, proof of Fly's accurate reproduction that is a visual delight.
In terms of automotive tastes, it can be said that there is a Jager for every palate. At this point it seems that we have forgotten about group C, right? Well no, it is not like that. Here's the dose courtesy of Porsche and its 956/962.
https://www.slotcar-today.com/es/notices/2017/02/porsche-956kh-jagermeister-slot.it-6187.php
Sources and references
I highly recommend to fans of this livery, on the one hand this video with a visit to the Jagermeister racing vehicle collection.
And additionally, these websites that compile the history and successes of the Jagermeister Team, and with a photographic quality that honors its history.
https://newsroom.porsche.com/es_ES/historia/2020/es-porsche-klassik-magazine-eckhard-schimpf-jagermeister-decoracion-22468.html
https://www.classicdriver.com/en/article/sponsored-content/rennmeister-discover-iconic-jaegermeister-racing-cars-you-havent-seen-them
As a nice wink to close the article, there are people who consider that the Porsches, BMW, Capris, March F1 and F2 are not enough to wear these colors, and bring their personal touch to enhance the Jägermeister spirit. As an example, this video that I have found with a venerable Lada drifting on country roads. Will it be a new signing of the brand on the other side of the Iron Curtain? This can inspire us for a Seat 1430 Altaya/Scalextric with this particular look. The Seat 1430 is the spaniard sibling to the Lada, being both derived from the Fiat 124S .
As you can see, there is a Jaegermeister for each of us.
A second part of this article will bring more 1/32 scale racing cars that pay tribute to this mythical livery.
Dear slot car enthusiast, hope you enjoyed this article. More soon….