In this new entry about mythical liveries and decorations, we go with a sponsor that transmits better than anyone, the essence of la dolce vita, enjoyment, and speed: Martini. If any company has had a skillful image management throughout the world of car racing, without a doubt Martini is one of the first that comes to mind, and its unmistakable colors.
We are going to make a brief review of its history, and its impact on the world that interests us, which is car and slot racing.
To whom do we owe the Martini Racing livery?
To the company Martini & Rossi, responsible among other things for the well-known Vermouth Martini. In 1958 they decided to start a sponsorship program, such as Martini International Racing, at the initiative of Count Metello Rossi di Montelera.
The livery that we know is unequivocal: white background, and on it, red and light and dark blue lines, running along the contour of the car wearing this decoration. The most successful car under this sponsorship is the Lancia Delta HF Integrale. But let's not get ahead of ourselves; not all the successes under Martini livery were with Lancia. Let's do some history.
When does Martini Racing begin to be seen on the tracks?
According to Wikipedia and other sources, sponsoring a team made up of Alfa Romeo Giuliettas SZ Coda Tronca type in the 3 hours of Daytona in 1962. But they didn't have the livery we're used to; only on the front fenders, you could read the text «Martini & Rossi Racing Team».
Note of slot interest: diving on the net, I found a Facebook page, ARC24Models, in which the user is immersed precisely in a project named «Martini Project – Alfa Romeo Giulietta SZ Coda Tronca #82». Accessible here.
The next notable step in sponsorship would be taken in Germany in 1968, when through the personal relationship between Paul Goppert, Martini's public relations, and a pilot named Hans Dieter Dechent, the sponsorship of a Porsche 910 belonging to the team was promoted. Lufthansa Racing Team. We have an illustrative example rescued from the site http://www.modelcarsmag.com. Click here to see its construction in detail.
And it was a matter of time that later, during the '70s, that connection was established between the colors of Martini Racing and the official Porsche team that imposed its law with its intractable 917. The first victory at Le Mans would come in 1971, with the 917K piloted by Gijs Van Lennep and Helmut Marko.
Does this winning 917K exist for our 1/32 slot showcase? Yes. Here you have it, on one hand Fly, and on the other NSR provide us with very detailed versions. And in this link, an excellent review with abundant graphic material.
In 1973, a Porche 911 won by surprise at the Targa Florio, once again wearing the colors of Martini. Another milestone to make this sponsorship a winning image associated with success in competition.
Apart from the Porsonly reference, a nice example of Scratchbulding with a tribute to said car is available online, by http://www.erneslot.es, accessible here.
Flyslot also reproduced this model, which we can see in the image that follows.
In the mid-1970s, Martini also had a presence in Formula 1, through teams such as Techno, with little media impact due to low competitiveness, and later Brabham. Flyslot put at our disposal a recreation of the Brabham Martini BT44. Here we have an image of it.
Later and at Le Mans again, the Martini Racing colors would reissue their successes hand in hand with Porsche again. On this occasion, with the Porsche 936, and in the years 1976 and 1977. The unavailability of these versions made an enthusiastic slot craftsman, alias 'Jolcheira', make his own version, from one of the Spirit 936. The result, spectacular. To see the corresponding entry in the passionslot forum, click here.
At the beginning of the '80s there is a change in trend, and in 1981 Martini decides to support the Lancia team participating in the World Endurance Championship. The lucky cars to sport these winning colors would be the Group 5 Lancia Betas, the Group 6 LC-1s, and the Group C LC-2s. This association lasted until 1986.
These references can be enjoyed by Slot lovers from manufacturers as different as Hunaudieres Resin Model, Sideways, Fly, Slot.it, and in a somewhat marginal way, we can also consider the Scalextric Lancia SRS, always bearing in mind that its appearance is somewhat rough compared to the previous ones. Then let's delight ourselves with images of some of these specimens.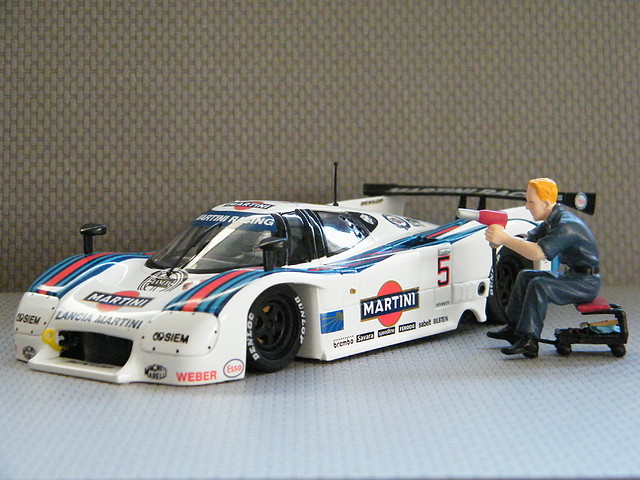 After endurance racing, Martini Racing would find a new vein through the world of Rally. Again decorating the 037, Delta S4, Delta 4X4, Delta Integrale, and finally Delta HF Integrale 16v, they made clear Lancia's authority in that specialty. And from our beloved 1/32 scale we can pay tribute and imitate these feats with this series of references. Possibilities are not lacking.
I also invite you to visit another page that caught my attention during the search for references that I was carrying out. It belongs to Darío Rally & Slot Blog. There is a reference made based on the Delta HF 4WD worth mentioning for its visual quality and finish. Available here.
Later, and we are talking about the '90s, Martini sponsored the Alfa Romeo team in the 1995 DTM. However, the Alfas no longer had the competitiveness that they had 2 years earlier when they mercilessly beat the Mercedes C class during the DTM in 1993. However, they are pieces of motoring history, and well deserve a place if we want to complete a «Martini collection». In this case, the reference comes to us through two well-known and highly reputable manufacturers such as Ninco, and Slot.it.
In conclusion, references are not lacking if we decide to explore the Martini world in racing through our 1/32 scale racecars.
I hope you have enjoyed this brief review of the history of Martini's presence in racing through some of its slot replicas. See you in the next article.
Sources and references:
https://www.facebook.com/ARC24Models/
http://www.modelcarsmag.com/forums/topic/99011-porsche-910-023-scuderia-lufthansa-1000-kms-de-nurburgring-1968/
https://lemans.slot-racing.fr/le-mans-1971/porsche-917K-22-fly.html
http://www.erneslot.es/html/scratchbuilding/decoraciones/porsche_gt3-tf73.html
https://pasionslot.mforos.com/1552599/13015808-porsche-936-77-le-mans-1977/